Explore other meanderings, scenic byways and roads less traveled over at Travelin' Magpie.
Follow this trip via Mapquest or see highlights, photos & check-ins on Foursquare.
Part Two: Traveling Northbound from Lockesburg to Huntington

In a previous post (a *while* back. cough.) I wrote a bit about my enduring affection for Highway 71 in Arkansas.  In fact, that post even comes with a recommended soundtrack – go back and give it a quick read so this ramble is a bit more (or less) in context.  I've always enjoyed the freelance travel writing assignments I've received over the last decade, and finally decided to compile them all together in the new Travelin' Magpie section of the blog.  Hop over and let me know what you think.
Once you've checked out that first post and decided to accompany me – mentally or physically – on that drive heading north out of Texarkana on Highway 71, you'll find we last left off in Lockesburg, Arkansas.  I have a funny form of underdog enthusiasm for the towns we blow past at high speeds or that a normal "tourist" might disregard because they appear tired, crime-ridden or otherwise not worth noticing.  It's probably one of the reasons I'm fond of the town of Radiator Springs in the 2006  Disney-Pixar film Cars (in addition to the fact that it was the very first movie we saw in a theater with Sophie at age almost 3 – she stood the whole time in her excitement).
I always wonder what made those towns tick so many years ago, whether a train depot or hot springs or a natural resource were their claim to fame or if their setting in a quiet valley was just appealing to early settlers.  I wonder how the names of the towns came to be in particular, and highway 71 provides a litany of intriguing names to ponder: Vandervoort, Witcherville, Alleene, De Queen and, of course, Gillham.  I remember my Grandpa admonishing me in college when I left to drive (probably too fast, in his mind) back to school after a weekend visit: "They take 'em and kill 'em when they catch 'em in Gillham."
I mentioned things like the Grisham-esque Painted House and Jim's Boot Repair (above) in Lockesburg in the first 71 post, but there are a couple of other things worth mentioning in the small town: a Fenton shop (see the photo in my Foursquare list for this trip) that looks fun to explore and a rock shop near the Painted House.
The rock shop represents two Arkansas anomalies for me, although I'm sure they happen in other states.  The first is the existence of rock shops in general.  My sister and I are intrigued with these places, scattered along Arkansas byways with offerings like quartz crystals and all sorts of remarkable (and unremarkable) stones and gems.  The second Arkansas anomaly was the owner, Karen.  As we pulled up, I made several loops past the shop taking all my weird photos for this post.  She and her male counterpart eyed us suspiciously.  When I finally stopped the car and my daughters piled out, I was no longer suspect.  She walked right up to my toddler and picked her up, took my older daughter's hand and walked off babbling and pointing with them.  Now I eyed her suspiciously.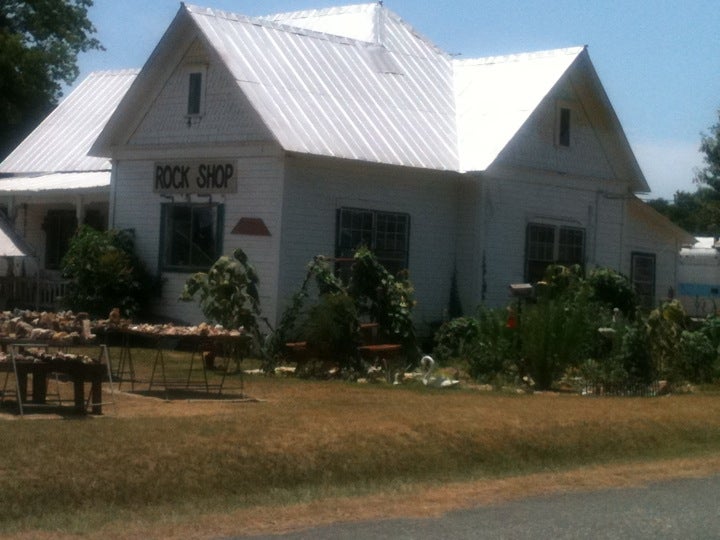 Had a stranger picked up my children without speaking to me and begun to walk away with them in Chicago or New York, I would have assaulted them.  Here…. it's just how it is.  She handed me a flyer touting her "Karen's Krystals" page on Facebook and continued to focus the majority of her attention on my girls.  I walked to the side yard and bought tomatoes from the man, and by the time we left I had purchased four rocks but my daughters were each lugging bags full of rocks and shells she felt compelled to send home with them.  When I politely attempted to not accept the rocks and the multiple plastic bags she placed them in (I try to skip plastic bags), she looked at me as though I were insane.  And then I realized that in one another's eyes, we were each our own brand of special, but acceptable, crazy.
Back on the road, the journey continues toward De Queen.  I remembered many stops there at Herman Dierks Memorial Park for picnic lunches or time to stretch legs as one set of relatives deposited me with the other during Arkansas summers.  For old times' sake, I thought I'd make the stop with the girls (as though they needed to stretch their legs, since we were stopping predictably every 15 minutes as I'm prone to do when I meander up highway 71).  I also remembered that one of our nephews had gotten married near the park in an interesting chapel.  It turned out (shockingly) that my memory was hazy: that miniature chapel is actually part of the Sevier County Museum, Village & 1940s home: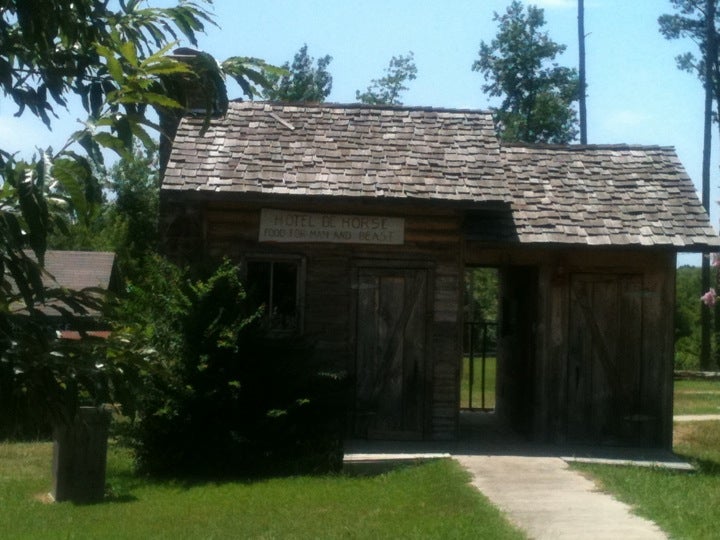 It's worth exploring the Sevier County Museum's website for more information on the miniature building replicas and attractions – another Highway 71 treasure!  Continuing along, be sure to stop at the Gillham fruit stand (it's a fixture – there has been a produce stand in that little spot for as long as I can remember traveling the highway).  I always keep a small amount of cash with me for these iconic 71 peach, vidalia onion and general produce stands.
Wickes is an interesting Highway 71 town in that my family's history arguably began there, where both my grandmothers lived and were friends and where scads of our Ross-Duckett family members are buried nearby in a small cemetery.  My pint-size Grandmother Lay was a pole-vaulter and basketball player for a time there, and my Dad calls Wickes and the Cossatot River the "center of the universe."  We often return to dip our feet in the Cossatot, and there are a million things that pull at me in the town of Wickes.  The Cove Hardware & Grocery Store seems like my idealistic place to find everything I could ever need, and even a vacant storefront seems to seep history I feel like I might recognize and want to explore.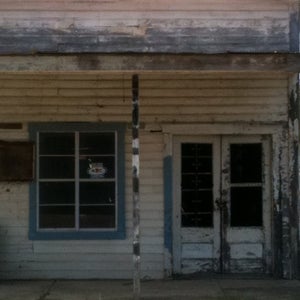 A paragraph doesn't do any of that justice, and Wickes and the Cossatot are probably a story for another day.  Likewise, Mena is a story for another day: the town where my Mom spent her childhood and where I associate so many memories of cousins, aunts, uncles, grandparents and learning the ways of the world won't work in just one post, but for the traveler not quite so tied to our past, at least stop at Mena Architectural Salvage (and maybe grab lunch at The Chopping Block).
As you ramble on northward or southward or any which direction, you'll find plenty of small pleasures.  One of my personal favorites is the little Antique & Garden Furnishings store below on the outskirts of Witcherville.  It's truly full of special things and has the requisite shop cat rubbing at your ankles while you peruse the antiques and junk.  The shop is a bit like Highway 71 to me: as you look around, your eyes alight on hundreds of items that hold one memory for you, and a completely different feeling for someone else.  Some of it is worth examining, revisiting and reminiscing, and some makes you want to hightail it out of town.  We can probably all settle on the fact, however, that it's all the good stuff.