We can pretty much close the books on November, which means that the final month of the year is upon us.  This seems to send people into varying degrees of panic, and it can definitely feel like the grim reaper calling: tasks to wrap up, new year's resolutions unachieved, the holidays upon us…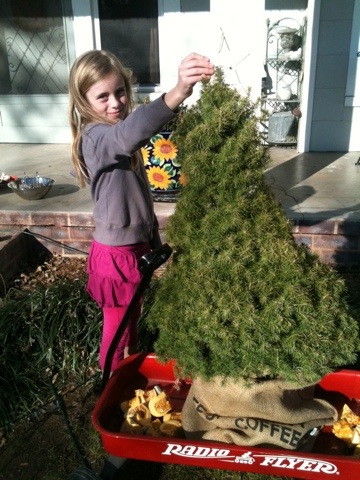 While I've been guilty of all of those sentiments, I am particularly grateful this year that I've been paying closer attention to the good counsel of my husband.  I thought I was pretty good at enjoying life, but it's amazing how simple it is to neglect the details.  Thanks to his (irritatingly always on the mark) advice, I think I've done a pretty excellent job of simply enjoying every day, absorbing our kids and generally taking things down a notch of late.
I feel calm, focused on the right things and pretty darn laid back.  The weeks ahead shouldn't fill us with dread, they should fill us with glee.  December can and should be one of the most magical months of the year, both indoors and out.  Tonight's full moon surrounded by an "aura" had a lot of people talking, and it's exciting when we collectively pay attention to the details.
With all that said, I'm on the edge of my seat about an opportunity I'll have next week to embrace some family time and get a hefty reminder to dance through life enjoying the details:
Fred, Sophie and I are headed out next Tuesday for opening night of Billy Elliot: The Musical at the Walton Arts Center.  We'll leave the Small One Who Does Not Stop Talking with Ms. Peggy across the street, and we'll get the chance to give our nine year old some undivided attention.
I'm truly looking forward to it.  I remember when the movie came out over a decade ago what an unexpected, sort of indie-feeling treat it was: the epitome of a "hurrah" flick that you didn't expect to care for, much less find exceptionally moving.  Then, of course, I wasn't a parent – and now I'm intrigued at the thought of taking Sophie to see this film about a kid at about her age who is struggling with all the delights and hazards of finding his true passion set against the backdrop of very difficult times.
I fully anticipate it to be one of those moments in life when I'm more excited about what she is seeing and experiencing than I am my own enjoyment of the moment.  This summer when we took her to camp, I was so excited I could hardly stand it – and when a camp counselor came riding up on horseback to greet our car in the parking lot and I watched her eyes grow big, I nearly burst into tears.
The point is simply that we are so busy being busy at this time of year, we can forget to watch the little moments unfolding right in front of us.  I've noticed our family is, at this season of our life, doing an exceptional job of just watching the moments unfold: we sit at dinner and laugh at Ainsley's facial expressions or we laugh together at nothing at the end of a long day.
While Billy Elliot may not be typical holiday fare, I think it is going to be a bright spot during the Christmas season for us: a brief respite, a tiny escape, a moment of watching our child watching another child navigate life.
I can't wait.  Here's hoping that you and your family can take just a small moment this December to simply be together.  If you need a nudge, steal one of our traditions: make a tree for the birds or soak in the holiday lights.
Or, check out Billy Elliot: The Musical along with us at the Walton Arts Center!  It's showing December 4 – 9 at varying times and would be a fantastic treat for your family!  The WAC has a "Feed Your Dreams" food drive to benefit the NWA Food Bank and benefit from a special ticket offer thanks to your donation, as well.
P.S. Stay tuned: I have a couple of really fun $100+ items to giveaway in the coming days to blog subscribers!